The Privacy Management settings give users the ability to customize the web tracking notification that is required under the GDPR Law. General Data Protection Regulation (GDPR) is a European privacy law approved by the European Commission in 2016 which is designed to unify and regulate EU residents' control of their personal data.
You can enable the GDPR banner through your Account Settings. You must be an Account Admin or Library Admin modify these settings.
Enable GDPR
Navigate to Settings from the library navigation.
Check the Require user consent box.
You will see a Disclaimer Message text box with a default disclaimer message. You can edit the content of the disclaimer message to align with your company's messaging style. Additionally you can format the text style using Bold, Italics and

Underline

options and add a link to your company's cookies policy.
You will see an Opt-out link text box with a default opt-out verbiage. This will be the text link an external user will click to opt-out of tracking.
Click Update Settings.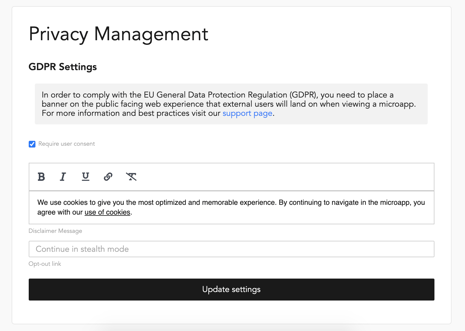 After activating GDPR compliance for your account, all microapps being viewed with a shared link will have a banner displaying your Disclaimer Message and Ppt-out link at the bottom of the screen.
The user consent banner will not appear for the users with a Tiled account viewing a microapp from the microapps library.
Privacy Management FAQs
How does the viewer opt-in?
The viewer can opt-in by continuing to interact with the microapp or by clicking the close icon. The banner will then disappear.
The banner will not reappear unless the user's cache has been cleared, or the microapp is being viewed from a different browser for the first time.
How does the viewer opt-out?
The viewer clicks the opt-out text in the banner. If the viewer clicks the opt-out text, no personal identifiable information will be tracked. These sessions will be masked in analytics
Analytics for Viewers who Opt-out