After creating a handful of microapps, categories, or even libraries you may be wondering how to readily access the microapps you are searching for. Every library has a powerful microapp search tool in order to help you find microapps quickly.
Search bar
When searching for a microapp the search query will attempt to match with microapp names. The results of the search will reveal microapps across Groups and other Libraries. Although the search tool is accessible to all User Roles and Account types, the visible search results will be limited by Group or Library permissions.
For example, if a base user searches for "sales" the only results they will see will be microapps they have access to. Account Admins, on the other hand, will see all available search results since they have access to all Libraries and Groups.
Filtering by Tags
When searching for a microapp, you have the ability to filter by tags to narrow down your search results further.
In addition to using the search bar to find a microapp by name, the user can add a filter with one or more of the available microapp tags.
If the user is unsure of the microapp name, they can solely rely on the tag filter capability.

Users can filter by tags from the search bar filter dropdown.
Users can filter by tags by simply clicking on the tags displayed below the microapp covers.
Users cannot click on microapp tags under a microapp cover from another library to filter the current library.
To learn more about microapp tags view the following support articles:
Search Example
Use the image and table below to better understand the results of microapp search.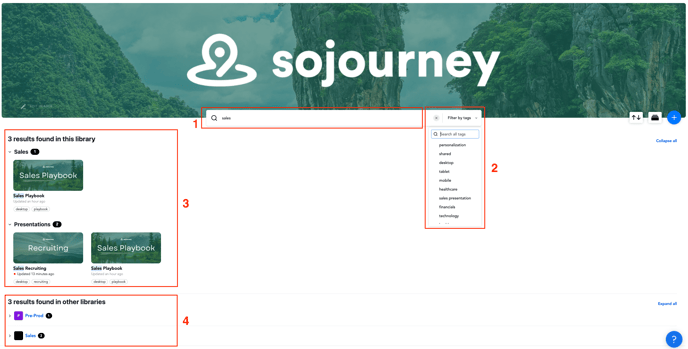 | # | Section | Description |
| --- | --- | --- |
| 1 | Search Query | Find your microapp by typing a word or phrase in the search box. |
| 2 | Tag Filter | Find your microapp by selecting from the tag filter dropdown or by selecting any of the tags under a microapp cover. |
| 3 | Current Library Results | Only microapps in the library you are searching from will be shown here. |
| 4 | Other Libraries Results | Only microapps in other libraries that match your search will be shown here. |