The microapp security settings were designed to give microapp creators greater control over the distribution of microapps. Admins and Editors are the only user types that can enable the password protection options from the builder's 'Microapp Settings' modal. This article details the following security features:
Accessing Microapp Security Settings
Identify the microapp which requires updates.
Hover over the microapp and select the three-dot-menu in the corner of the cover image.
Click Edit. You will be taken to the Tiled Builder.
Click the gear icon to open the Microapp Settings modal.
Click Security. You are now on the Microapp Security Settings.
Internal Only
While toggled ON this security feature will prevent public links from being generated. Only users with access to the Tiled account will be able to view the microapp from the Tiled Library. The photos below shows a lock icon beneath the microapp thumbnail, where "Internal Only" has been activated.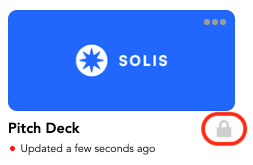 Note: Public links generated before this option is turned on and will still be accessible.
Password Protection
Password protection is a feature within Tiled that adds a layer of security to shared microapps, ensuring microapps can only be viewed with a password. Once Password protection is enabled, all shared links generated will require viewers to enter the password generated by the user sharing the microapp. Learn more about how to share a password protected microapp.
Password Protection FAQs
Do I have to create or generate a password for each type of share link?
Yes, whether you are sharing a password-protected microapp as a direct share, public share, or subtag share you must include a password. You can create your own password or have the system generate a password for you. Learn more about
sharing password protected microapps
.
Can I reuse a password for different share links?
Yes.
Will my previously shared links for a microapp be impacted if this feature is enabled for a microapp?
No, if you shared a microapp prior to enabling this feature, that share link is still valid and users can use it to view the microapp without a password.
Can I send an email reminder for a password-protected microapp through the MyShares tab?
No, currently you cannot send an email reminder for a password-protected share link through the MyShares tab.
Link Expiration
Link expiration means Shared links will expire after the specified duration. The text input only accepts integers and you can specify the duration in Hours, Months or Days.

Public links generated before this option is turned on will still be accessible.
Publish after modifying settings
When modifying the Security settings of your microapp be sure to publish your microapp after making adjustments.